Chiropractic Care for Neck Pain
Do you have a stiff neck? Are you suffering from tension headaches or neck pain caused by overly tight muscles in your neck, shoulders, and upper back? You are not alone. It is estimated that 1 in 3 people suffer from neck pain at least once every year. Neck pain, like Lower Back Pain if left untreated, can lead to uncomfortable, debilitating recurring issues like tingling, numbness, limited mobility, muscle spasms, migraines, and other health problems that can affect your daily life.
You do not have to endure neck pain! The Board Certified Doctors of Chiropractic at Wilbeck Chiropractic can help you. With noninvasive chiropractic care, we can alleviate your neck pain and put you on the road of recovery. We help patients everyday reclaim their optimal health, helping individuals to live life to its fullest. Our Chiropractors and staff are Wichita's foremost experts in the treatment of mild to severe neck pain.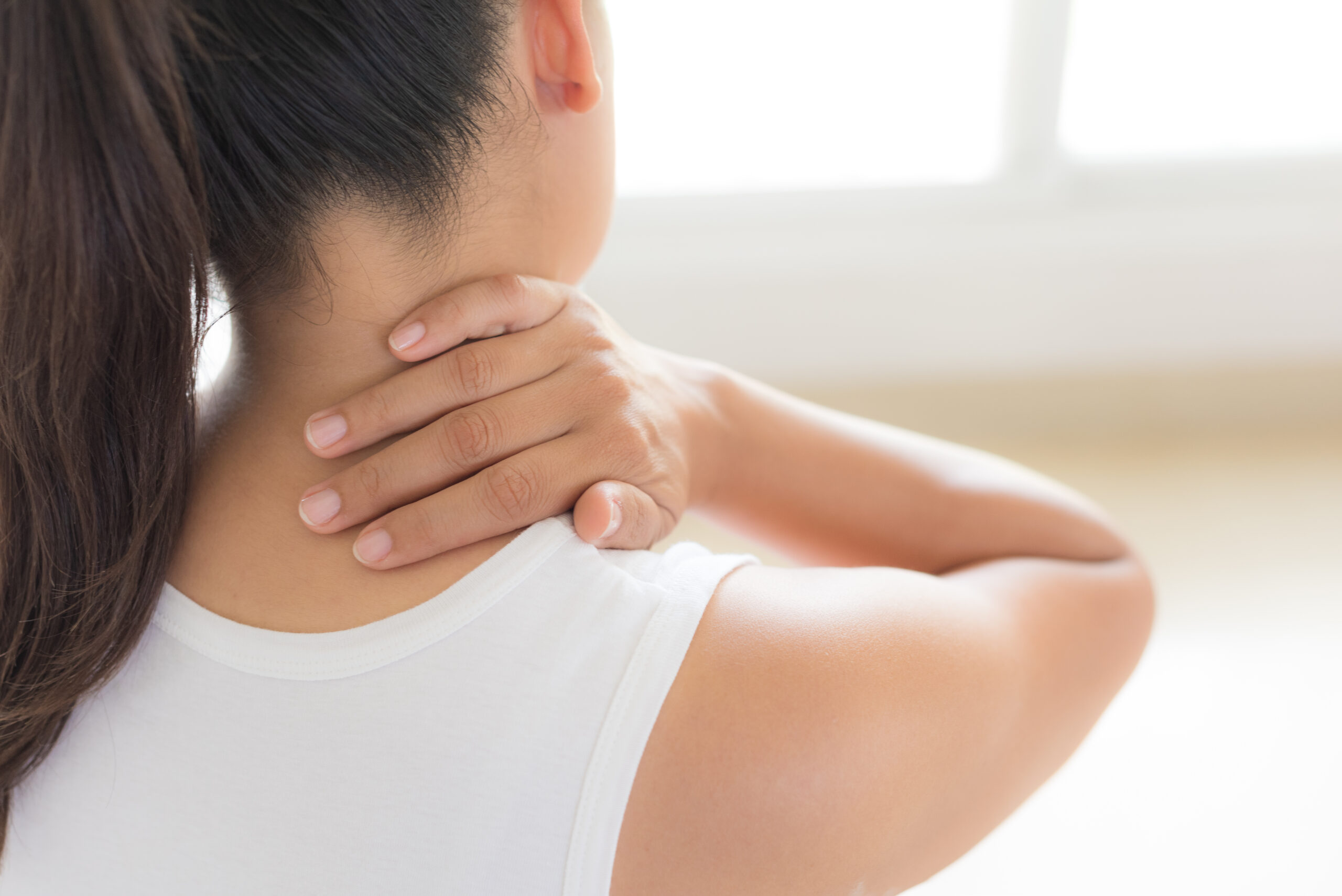 What Causes Neck Pain?
Neck pain is caused by many different factors that can be either acute or chronic in nature. One of the most common chronic causes of neck pain is bad posture. Slouching for prolonged periods of time creates a strain on the muscles of the head, neck, and shoulders. This continuous pressure pulls the spinal column out of alignment producing symptoms such as neck pain, sore muscles, and headaches.
Traumatic injuries can also proceed chronic and acute neck pain. Injuries from falls and Car Accidents are typical types of injuries that produce neck pain. One of the most common injuries that occur in motor vehicle accidents is whiplash.  Whiplash is defined as a neck injury triggered by sudden violent rocking back and forth of the head. It is a good idea to get checked out soon after a car accident.  Many individuals won't experience pain or discomfort immediately following a car accident. Assuming "everything is fine" they may ignore small telltale signs of injury which, long-term, if untreated can cause more serious chronic pain later in life.
Neck injuries are also prevalent in sports-related activities and workplace injuries. Again, don't be shy about seeking a chiropractic or medical evaluation after you have experienced an injury.  Its better to be proactive in the moment about maintaining your good health vs. reacting to chronic health issues later on.
Some acute neck pain, such as a stiff neck, can also be triggered by less traumatic events. It is not uncommon for individuals to experience a stiff, sore neck after sleeping with their head at an awkward angle overnight. Some of our patients experience neck strain after overdoing a physical activity like working out or performing manual labor, or they might experience tech neck, which is typically caused by the flexion of the neck bending forward for extended periods of time, usually from prolonged use of cell phones, computers, laptops, tablets, and other related device. These types of neck pains are usually quickly alleviated with a few chiropractic adjustments.
What Does the Term Wry Neck (Torticollis) Mean?
When it comes to neck pain you may have heard the term Wry Neck (Torticollis). Wry neck can be inherited (a congenital condition) and can often be a result of a baby's head being in the wrong position in the womb.
Wry Neck can also be due to damage to neck muscles and blood supply (due to many of the injuries discussed above). However, it is also very common to not know the cause of Wry Neck.
Wry Neck (Torticollis) discomfort and pain can be temporary or a chronic/fixed condition. Regardless of the severity of a Wry Neck condition, Chiropractic Care can dramatically improve pain, discomfort, and range of motion.
Treating Your Neck Pain with Chiropractic Care
You don't have to live with neck pain! Let Wilbeck's Board Certified Doctors of Chiropractic relieve your discomfort and set you on the road of recovery. Neck pain does not have to be a part of your daily life.
Wichita's Wilbeck Chiropractic Clinics take a whole body, holistic approach to treating pain at its source. We listen and consult with our patients upfront to understand their unique neck pain issues and concerns. Every patient then undergoes and initial physical exam and when appropriate digital x-rays are taken of their neck and spine to determine where mis-alignments may be occurring.
Once the initial exam is complete we then work closely with each patient to design an effective treatment plan for their neck pain. Our chiropractors utilize a variety of techniques when caring for patients.  Most often the approach is to apply gentle pressure to the affected area, manually adjusting the neck and spine back into its correct position. Patients sometimes hear a mild "popping" sound that is often accompanied by instant pain relief.
Schedule an Appointment Today
We can see you now…Call Wilbeck Chiropractic or schedule an appointment online below.
Take Advantage of Our $19 New Patient Special!
We are here to help you live your best life!
To improve your experience in our clinic, we encourage new patients to download and fill out our new patient intake form before arriving for their first appointment.
Northwest Clinic Location