What Is Childhood Scoliosis and How Is It Affecting My Child?
Childhood scoliosis is a medical condition that affects the curvature of the spine causing it to develop abnormally in children. Childhood scoliosis is a common condition, in fact more than 100,000 children are diagnosed in the United Sates annually. (Early-onset Scoliosis, n.d.)
Early-onset scoliosis will cause an abnormal curve in the spine that can be visible without the aid of x-rays. Childhood scoliosis will cause shoulders and hips to become misaligned and it will often cause a shoulder blade to protrude or stick out further than the other. Childhood scoliosis will also reduce a child's mobility or flexibility and cause pain and discomfort in some children if left untreated.
Scoliosis can develop during infancy, childhood, or adolescence.
Early-onset childhood scoliosis is typically diagnosed and treated between the ages of 10 and 15. Identifying scoliosis at birth or in early childhood can be difficult but it can be treated and corrected if diagnosed at an early age.
Scoliosis can vary in severity from child to child, and its causes are often unknown, but one thing is certain, early detection, diagnoses, and treatment of childhood scoliosis is paramount to ensuring that your child living a pain free childhood and will not have issues as they continue to grow into adulthood.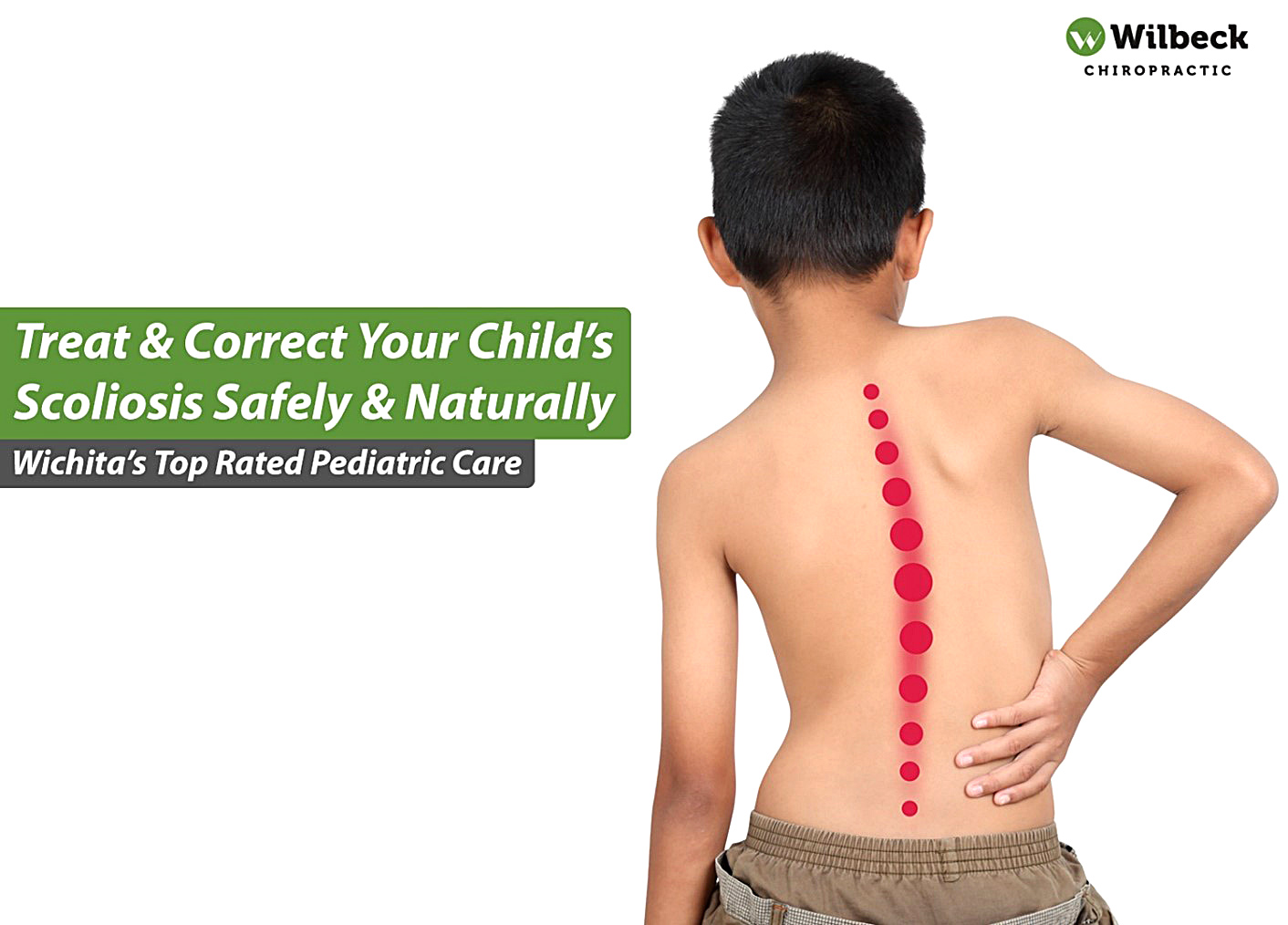 Below are the four most common forms of early onset scoliosis.
Idiopathic Scoliosis: This is the most common type of childhood scoliosis, and it typically develops in adolescence.
Congenital Scoliosis: This form of childhood scoliosis is present at birth of a child and occurs due to abnormal spine development in the womb.
Neuromuscular Scoliosis: It is caused by neuromuscular conditions such as cerebral palsy or muscular dystrophy.
Syndromic Scoliosis: Associated with genetic syndromes that are passed down to the child like Marfan syndrome or Ehlers-Danlos syndrome.
Childhood Scoliosis Is Easily Corrected and Prevented Through Chiropractic Care and Physiotherapy
At Wilbeck Chiropractic we specialize in Pediatric Chiropractic Care & Physiotherapy and the treatment of childhood scoliosis through safe, natural, noninvasive techniques that will not only relieve pain symptoms and correct spinal misalignments related to childhood scoliosis, but our treatments will also aid in preventing future scoliosis issues while maintaining and optimizing your child's overall health and wellness.
At Wilbeck Chiropractic we use multiple techniques and therapies that include the gentle manipulation of your child's spine and musculoskeletal system to correct the abnormalities that are present in the spine.
It's crucial that you have your child evaluated for early-onset childhood scoliosis before the severity of the curvature becomes a more serious issue. Things like age, the angle of the spinal curvature, and other underlying causes factor into the treatment and recovery time of your child.
Make an Appointment with Wichita's Top Rated Pediatric Pain Specialists
Early detection, correction, and the regular monitoring of childhood scoliosis is essential to effectively treating your child's condition.
Your Child Doesn't Have to Live with Scoliosis Experience the Healing Power of Chiropractic & Physical Therapy
During your initial visit we will conduct a thorough wellness exam to discuss your child's spinal condition and the area(s) that are affected by pain. We then take the necessary steps to diagnose your child's condition, including x-rays.
We are happy to answer questions about insurance coverage and our alternative payment options. Our team will even call your insurance company for you, so you can understand your chiropractic care and physical therapy benefits!
LEARN MORE about how our team can help you determine your insurance benefits.
Schedule an Appointment Today
We can see you now…Call Wilbeck Chiropractic or schedule an appointment online below.
Take Advantage of Our $19 New Patient Special!
We are here to help you live your best life!
To improve your experience in our clinic, we encourage new patients to download and fill out our new patient intake form before arriving for their first appointment.
Northeast Clinic Location