We all want our children to live happy and healthy lives. At Wilbeck Chiropractic, we believe that health is an active process that begins early in life. Chiropractic care is an excellent way to not only support your child's health and wellbeing, but it can help parents address their children's health concerns with a safe, noninvasive, and homeopathic treatments designed for their young, growing bodies.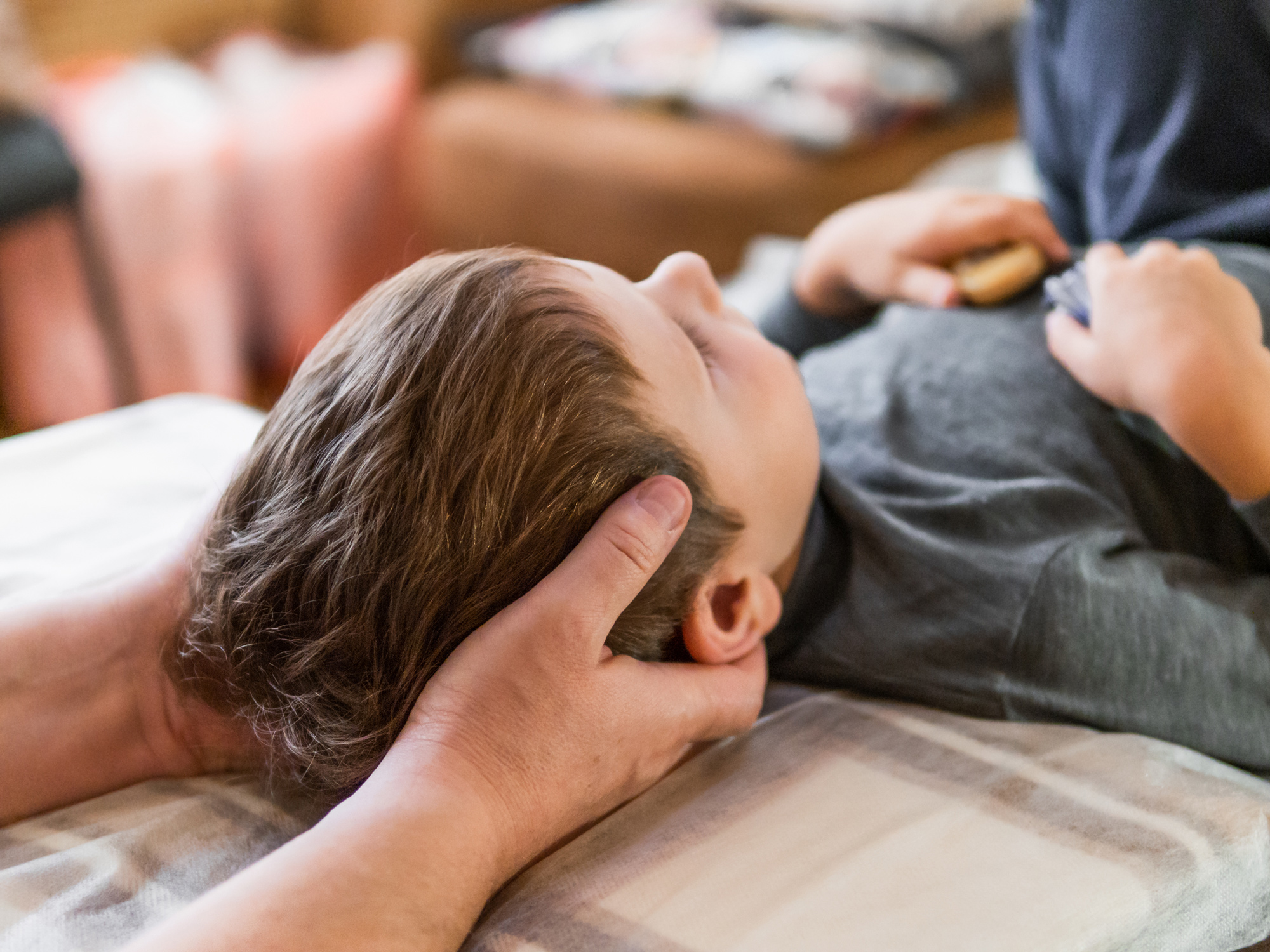 How Pediatric Chiropractic Keeps Your Child Happy & Healthy
Chiropractic care is a safe way to treat patients of all ages. The Doctors at Wilbeck Chiropractic have extensive experience treating infants, children, and teenagers. We often treat pediatric patients before they are born by caring for expectant mothers seeking pain relief during their pregnancy. Our clinics are designed to provide a therapeutic environment to put younger patients at ease while they receive
chiropractic care.
Chiropractic Care for Infants & Newborns
It is extremely common for children of all ages to experience spinal misalignments. For newborns, the physical process of birth can be traumatic on the spine, as the very act of being born can cause spinal misalignments. However, it may not be easy to diagnose, as a baby's symptoms may appear as fussiness, difficulty sleeping, trouble nursing or feeding, and colic. In many cases, our board-certified chiropractors can ease your newborn's distress by gently realigning their spine back into its proper position, ensuring that their little nervous systems are functioning at full capacity.
Chiropractic Care for Children & Teenagers
Children experience strains on their spine from numerous reasons. Their growing active bodies are in a constant state of flux as they run, jump, and play. In addition to growing pains, we treat young athletes who are experiencing sports-related injuries. Another prevalent spinal disorder frequently experienced in children and teenagers is a condition called tech neck, for the chronic forward bending of the neck most often by constant cellphone use[i].
Other contributing factors that commonly lead to spinal misalignments in children and teenagers are the following:
Poor Posture
Backpack Strain
Lack of Exercise
Hormone Shift
Overexertion
Growing Pains
Chiropractic Care for ADHD & Autism Spectrum Disorders
Children and teenagers diagnosed with ADHD and Autism Spectrum Disorders often struggle to focus on activities at school and home. Studies have shown that chiropractic care helps patients with these conditions, by improving the mind/body signals along the spinal column. Patients with either ADHD and/or Autism Spectrum Disorders, who receive regular chiropractic treatments, generally have a better ability to focus, experience decreased hyperactivity, and engage in less stimming behaviors[ii].
Chiropractic Care for Pediatric Patients
Although children generally do not complain of back pain, they often display other signs and symptoms when their spinal column is misaligned. The doctors at Wilbeck chiropractic focus their assessment to your child's developmental stage. We ask their parents/caregivers about their concerns, perform a physical assessment, and obtain  x-rays when needed. During this evaluation, our doctors can often determine the location of a pediatric patient's spinal misalignment. Using gentle pressure, our doctors can manually realign a child's spine back into its correct position. For best results, we have found that regular preventative chiropractic care is the optimal way to help our pediatric patients grow to be happy and healthy.
Listed below are some of the more common conditions that have been successfully treated or improved with pediatric chiropractic care[iii]:
Sleep Disorders
Digestive Disorders
Colic
Fussiness
Stress Relief
Improved Mental Health
Improved Behavior Issues
ADHD
Ear Infections
Bed Wetting
Asthma Symptoms
Improved Immune Function
Wilbeck Chiropractic Can Help Your Family Stay Happy & Healthy!
Self-care is an important life skill to teach our children. This begins with the examples we set for our children as we invest in our own health. Luckily, Wilbeck Chiropractic can help you invest in the health of your entire family, by setting up flexible appointments for all your loved ones to get regular chiropractic care. We have found that children who receive regular chiropractic care are happier and healthier as they grow into well-adjusted adults. By keeping their nervous systems clear of spinal misalignments today, we can help children grow into a healthier tomorrow.
[i]  KHAZAN, O. (2014, November 18). What Texting Does to the Spine. Retrieved from https://www.theatlantic.com: https://www.theatlantic.com/health/archive/2014/11/what-texting-does-to-the-spine/382890/
[ii] Heidi Haavik Taylor, B. M. (2010, April). Altered Central Integration of Dual Somatosensory Input after Cervical Spine Manipulation. Journal of Manipulative Physiology Therapies, 1.
[iii]  Shaw, G. (2016, April 19). Safety and Effectiveness of Pediatric Chiropractic. Retrieved from https://www.acatoday.org: https://www.acatoday.org/News-Publications/ACA-News-Archive/ArtMID/5721/ArticleID/165/Safety-and-Effectiveness-of-Pediatric-Chiropractic
Schedule an Appointment Today
We can see you now…Call Wilbeck Chiropractic or schedule an appointment online below.
Take Advantage of Our $19 New Patient Special!
We are here to help you live your best life!
To improve your experience in our clinic, we encourage new patients to download and fill out our new patient intake form before arriving for their first appointment.
Northwest Clinic Location